(Pre-Show Entertainment by Chris Crockett One Hour before all performances)
After last year's successful musical soap opera Shake, Rattle and Roll, OBS owners John Driscoll and Jan Kopp have devised an ALL NEW wacky production using last year's brilliant performers as different characters in a new story line with all new songs. This year's MYSTERY soap, "Go, Johnny Gough" follows a renowned detective's investigation into the mysterious attempted murder of crime syndicate kingpin, Frank O. .
In Go Johnny Gough OBS favorites Jed Dixon, Micah Cone, Heather Dixon, Ken Miele and Tina Marie Kelly will wow you in this brand new musical mystery adventure. With inventive choreography by Tina Marie Kelly and a varied collection of musical numbers including hits by The Bee Gees, The Four Seasons, Patsy Cline, Elvis, Electric Light Orchestra, Bachman-Turner Overdrive and others, this talented cast will take you on a wacky, fun-filled journey of intrigue, power and mistaken identities. Go Johnny Gough has plenty of laughs and great music and is suitable for all ages
Pre-show entertainment by Chris Crockett begins one hour before showtime.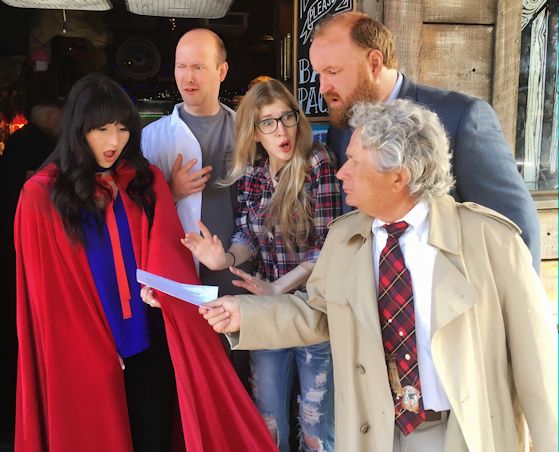 A few choice musical moments from opening weekend
Sold Out Dates Are Shown in BOLD Type
Admission

Friday @ 8:15 p.m.

May 18, 25 Jun 8, 15 & 22

$28.00
Saturday @ 8:15 p.m.

May 19, 26 June 2, 9, 16 & 23

$28.00
Sunday @ 2:00PM

May 20 & June 3

$25.00
Thursday @ 7:15 p.m.

N/A

$26.00
---
© Copyright 2001 Off Broadstreet
All rights reserved

This site is best viewed at 800 x 600, using Internet Explorer 4.x or higher.