Welcome back to Max's Mai Tai! After several months of successful operation as a 1950's and '60's theme bar on Hawaii's big island, the owners now hope to re-unite their summer cast for a big holiday bash; not only to entertain the"Baby Boomer" holiday tourists but also to persuade Paramount Pictures to use their bar as the primary location for their planned filming of a remake of Blue Hawaii. In an effort to add another layer of professionalism to their production, they have hired a burlesque dancer from Las Vegas to join their group for the holidays. Their new floor show, now billed as Mele Kaliki Mai Tai, features wonderful music from the "Golden Age of American Bandstand" plus some interesting romantic twists and some "Island Magic" for the holidays.
In Mele Kaliki Mai Tai, OBS regulars Jay Barker , Kelly Nevius, Rebekah Martino, Kristen DeKowzan and Tasa Proberts are joined by singer-dancer Heidi Grass (Seen previously in Sweet Nothin's). With inventive choreography by Tina Marie Kelly and Heidi Grass and a varied collection of all your favorite songs of the period, including hits by Elvis, The Platters, Chuck Berry, The Righteous Brothers, The Crystals, The McGuire Sisters and many more, this talented cast will take you on a wonderful, nostalgic journey to "The Golden Age of American Bandstand" (1955-1965). Mele Kaliki Mai Tai has laughs and great music and is suitable for all ages. Res: (530) 265-8686
Pre-show entertainment by Chris Crockett begins one hour before showtime for all performances.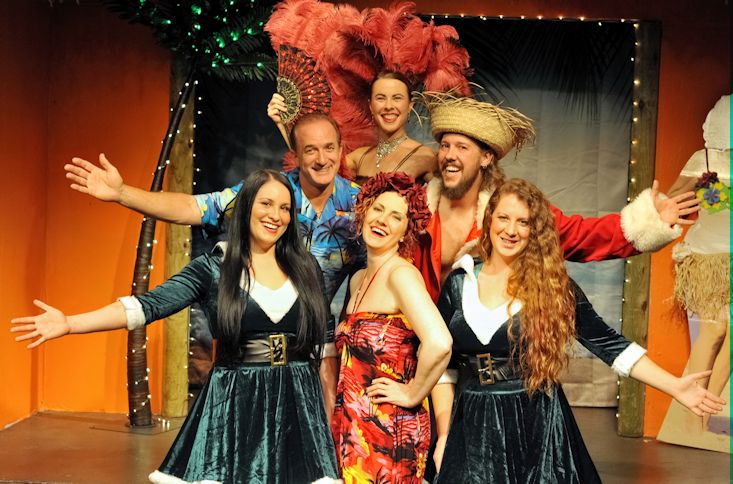 A few choice moments from opening night
Sold Out Dates Are Shown in BOLD Type
Admission

Friday @ 8:15 p.m.

Nov 16 & 30, Dec 7, 14 & 21

$28.00
Saturday @ 8:15 p.m.

Nov 17, 24 Dec 1, 8, 15 & 22

$28.00
Sunday @ 2:00PM

Nov 18 & 25 Dec 16

$25.00
Thursday @ 7:15 p.m.

Dec 20

$28.00
---
© Copyright 2001 Off Broadstreet
All rights reserved

This site is best viewed at 800 x 600, using Internet Explorer 4.x or higher.